Massage
PRENATAL AND POSTNATAL CARE & MASSAGE SERVICES
We complement our postnatal care products with prenatal and postnatal care massage services, exclusive for moms-to-be who purchase the TANAMERA Postnatal Care Set
from this website
.
Differences between Prenatal and Postnatal care & massages
Pregnancy is a period of great physical and emotional change for a woman. Mothers-to-be often suffer from nausea, stress and strain on muscles and joints. A recommended remedy is massage, a soothing and beneficial therapy given only after the first trimester. Soft effleurage of upward strokes on both legs and thighs boosts the circulation, relieves, prevents and reduces puffy ankles and helps with varicose veins. As the pregnancy progresses, a gentle massage with circular motions on the abdomen and pelvic area is allowed. This movement helps to position the baby and brings relief to the pelvic muscles of the pregnant woman.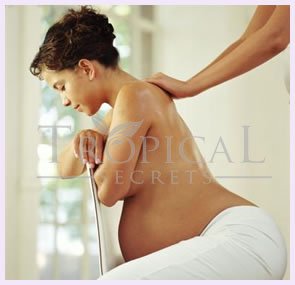 Our home prenatal massage focused on helping the mother-to-be relax and reduce her stress mentally and physically, help relieve muscle spasms and cramps associated with the stress of extra weight bearing and promote increase in blood circulation to help reduce swelling.
For prenatal massage, our therapist will be extra gentle particularly with certain areas of the body where deep pressure and percussive strokes are avoided. The mother's body will be positioned and supported properly using pillows and padding to ensure comfort and safety for the mother-to-be and unborn baby.
Our home postnatal care services includes 'tungku' (heat treatment), traditional malay postnatal massages, firming paste for the abdomen (tapel), wearing of abdominal wrap (bengkung), calming paste (pilis) and body scrub (lulur).
Our postnatal care massages and services are designed to relieve tense muscles, help improve blood circulation, expel 'lochia' and trapped winds & toxins, to lift the womb and keep it from sagging, hasten the shrinkage of the enlarged uterus, flatten the abdomen and breakdown stubborn body fat to its pre-pregnancy size and shape and speed up overall recovery. The postnatal massage also includes breast massage to help stimulate milk production. If this sounds truly wonderful, it is worth a try, as it is also immensely nurturing and relaxing!
We strongly recommend new mothers who have just given birth to undergo the traditional body massages for minimum 3 consecutive days, and if possible, even longer. Ideally, new mothers should undergo 3 consecutive days of traditional body massages at the start of the confinement period, followed with another 3 consecutive days at the end of the confinement period.
Our Home Prenatal and Postnatal care packages
Our Prenatal massages are at RM160 for every 90 minutes session.
We have 2 Postnatal care packages for new mothers to choose from:
3 Days package at RM540
5 Days package at RM850
The services provided include herbal bath, 'tungku', traditional malay postnatal massages, firming paste for the abdomen (tapel), wearing of abdominal wrap (bengkung), calming paste (pilis) and body scrub (lulur) on the third and fifth day. For postnatal services, be prepared to spend around 2 hours per session  with our therapist, even longer if breastfeeding breaks included in between.
Our Therapists
Our therapists are local Malaysians who are trained and experienced.
Please go to TANAMERA MOMS for testimonials on our  prenatal and postnatal care and massage services. Before you click BUY NOW, please read Terms and Conditions below.
Terms and Conditions for Massage Services

:
* Massage services are exclusive for moms-to-be who have purchased the TANAMERA postnatal care set from this website.
 *  Massage services are only available in Klang Valley within 20km radius from our base in Subang Jaya. For other areas in Klang Valley which are out of our 20km radius, transport and toll surcharge will apply  *  An advance notice of 3 days (average) is required to book massage sessions * We reserve the right to forfeit monies paid, for any change to scheduled  appointments which are notified less than 24 hours before the scheduled session *
Please contact us  at

cs@tanamerapostnatal.com

to arrange for your massage sessions.